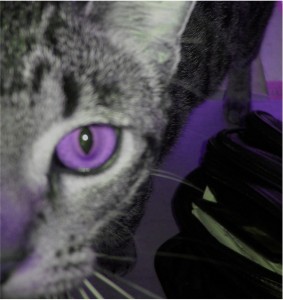 Hello World!!!  I am not really a purple cat….
  you can see here that I am not really purple. My name am Miri and you can find more about me and my brothers and cousin kitties at Mom's other bloggie:  Katiez Furry Mewz at Blogspot.
We am just trying out Word press… Mom's not sure she likes the features here… she can't change the font style, color or size without doing html… or paying somehing for the customizing feature that is FREE at Blogspot.
For some reason she only gets two themes here… versus at thepurplekattery.wordpress.com  the only good thing on this theme,
at least the links are the right color….
Soooo…just check us out at the other blog Katiez Furry Mewz at Blogspot  fur now…
purrz, Lady Miri Gentlepurr.